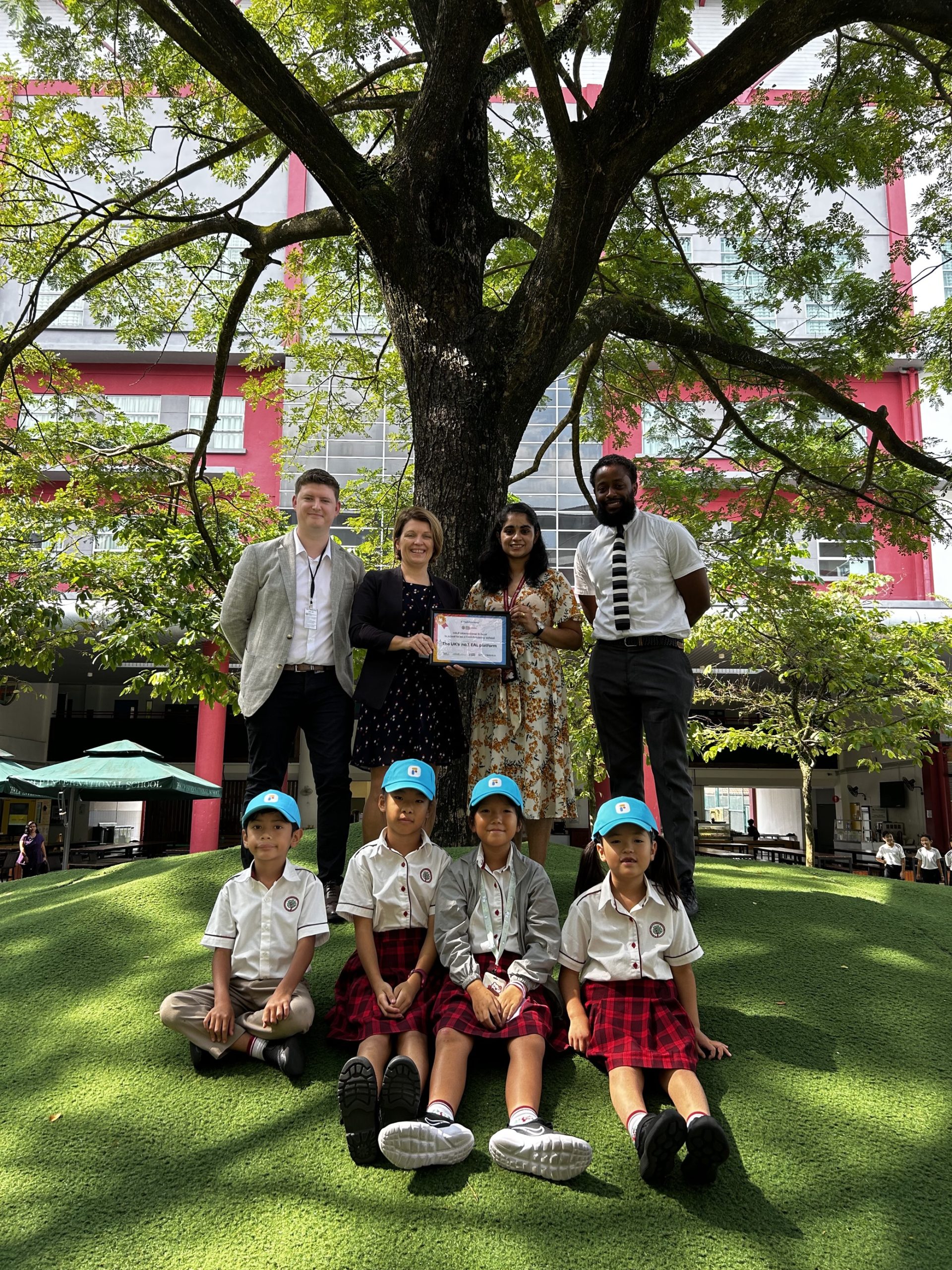 HELP International School in Malaysia have fully embedded FlashAcademy® across the school, supporting their learners to rapidly advance their English language skills. Sharmila, a dedicated EAL teacher, shares insights on how this has positively impacted both teachers and students. Sharmila plays a vital role in educating students in grades one and two, extending her support to secondary levels in subjects such as humanities, maths, and science. In our discussion, she shared valuable insights about her role and experiences in the classroom with EAL learners. Supporting educators like Sharmila is a key focus for us, and our Education Success Manager for International schools, Lusine Nalbandyan-Andreke, was pleased to sit down with her.
Who are HELP International School?
HELP International School, nestled in the heart of Malaysia, prides itself on its diverse student population, consisting of approximately 1,400 students. The institution seamlessly combines the educational heritage of both British and Malaysian traditions, aiming to create an unparalleled learning experience. Their commitment goes beyond academics. The school's mission is to provide each student with an education that not only equips them with knowledge but also inspires them to embrace life in all its fullness, as reflected in the school motto, "Life in all its fullness".
HELP International School's journey with FlashAcademy®
We uncovered the exciting journey of HELP International School and its innovative approach to education, focusing on the school's experience with FlashAcademy® and how it had left a lasting impact on their students' learning journeys.
Sharmila shared details of HELP International School, "We are in the process of becoming accredited for CIS (The Council of International Schools), and we are proud members of FOBISIA". HELP International School's curriculum is designed to cater to students across various levels, including preschool, primary, secondary and A-Levels. Secondary students can achieve IGCSE qualifications, and primary students follow the IPCA and other relevant educational frameworks. This creates a solid foundation while adhering to the British curriculum.
Sharmila's role as an educator is vital when it comes to English language learners at the school and is something she is immensely proud of. Sharmila elaborated on this, "In my role, I primarily work with ELL students (English language learners) from diverse backgrounds, including Malaysia, Korea, Japan, the UK and China. Many of our students join us with limited English proficiency, so this can affect their academic performance and social interactions.".
What challenges does HELP International School face?
Every school faces its share of challenges and Sharmila shed light on those her school and students have encountered. "The challenges around home languages when it comes to our students, from China, Japan and Korea particularly, is the students will have very, very limited English proficiency." This means that students can't always follow classes and understand what is being discussed. This results in less communication between the students and teachers and negatively impacts the ELL students' ability to learn and progress. HELP International school provides additional support for these students and encourages them to take part in class as much as they can. This is where FlashAcademy® comes in…
How has FlashAcademy® helped with these challenges?
The turning point in their journey came when the head of education implemented FlashAcademy®, a positive decision for both teachers and students. Initially, FlashAcademy® was only used to help students with their vocabulary skills. Teachers then began using the app with all their students on a wider basis. Sharmilla confessed, "FlashAcademy® is quite addictive the moment you start to use it, so it was a game changer for the teachers". FlashAcademy® is now implemented across the entire school.
The enthusiasm for FlashAcademy® continued to grow. The school organised training sessions for parents and teachers, ensuring everyone was familiar with the platform. Sharmila emphasised, "We have actually introduced FlashAcademy®, encouraging parents and teachers to use it as a supplemental tool to the classroom". ELL teachers customise the content in the FlashAcademy® lessons to ensure the material is relevant and effective for their learners. Sharmilla shared, "We actually customise the lessons to be more focused on what the students need. For example, if we have students from China, that will be more focused on vocabulary".
Has the implementation of FlashAcademy® been successful?
HELP International School's implementation of FlashAcademy® to help their learners is remarkable. Sharmila shared, "I feel the best thing about FlashAcademy® is it's fun and it's interactive, and because of that, the students tend to learn faster". Sharmila loves that the students can learn through games, which engage the students, she noted, "You can actually see the students getting joy and happiness when they have unlocked a topic or when they reach a certain level". Adding an element of competition has proven to be very engaging for students.
When Sharmila was asked if she would recommend FlashAcademy® to other international schools, her response was simple and direct: "I would say go for it because the material that they provide is great!"
HELP International School, with Sharmila's and her colleagues' expertise and direction, is paving the way for a new era of education. The integration of innovative tools, such as FlashAcademy®, has brought a fresh wave of enthusiasm and engagement to their classrooms, making a significant difference to the lives of their students. Sharmila's passion and dedication is inspiring, and the story of HELP International School is one of progress and transformation.