Frequently asked questions
Your assigned Success Team Advisor will email you whenever there is an update pending, so do keep an eye on your inbox. It is important that your school keep all their devices running the most up-to-date version of FlashAcademy® to be able to access new content. All our updates will contain bug-fixes, new features, new challenges and even more lessons! For the latest news, blogs and free resources visit our website (www.flashacademy.com).
Your students can access FlashAcademy® via the app (available as a free download from the App Store or the Google Play Store), via their browser on a desktop (web.flashacademy.com) or via the Windows App (www.flashacademy.com/windows). Teachers can access the app through the downloaded version, but for all admin and monitoring they must log on to the Teacher Dashboard (edu.flashacademy.com).
Yes, our Technical Guide is available on the Teacher Dashboard in the Downloads section. It will also be sent to you attached to your Welcome Email. If at any point your IT team need further support, please get them to contact your dedicated Success Team member.
Go to the Teacher Dashboard (edu.flashacademy.com) and log in using the admin details received in your Welcome Email. Go to "Admin" and then click on "Teachers". From here you can manually add your colleagues by using their work email address and assigning them a password. Once they have their own login details, you will be able to assign them to classes.
Yes. When you set up any students using the Teacher Dashboard, you will automatically receive an Excel spreadsheet containing all login information. It will be titled "Students" and will drop directly to your downloads folder on your desktop. This document will contain names, usernames and passwords. You can then use this as a master copy, to which you can add future pupil information.
Log on to the Teacher Dashboard (edu.flashacademy.com) and log in using the admin details received in your Welcome Email. Go to "Admin" and then click on "Students". Here, you will find two options. The simplest way to give your pupils access is by bulk-uploading students by downloading the CSV template, populating it, then re-uploading it to the dashboard. You will then see a long list of your students, can determine if they are an "EAL" or "MFL" learner and set their home language. Alternatively, you can add students manually by selecting the link on the same page and completing all information fields.
Your school Centre ID is a 4-character code unique to your school. This will be made available in your Welcome Email and can be found in the top left corner of your Teacher Dashboard home page.
Your school's Centre ID will need to be used by all teachers and students when logging in to the Teacher Dashboard or the app. If you have forgotten your centre ID and can't find your welcome email. please contact team@flashacademy.com.
If FlashAcademy® does not currently offer the home language of a pupil at your school, please do make your Success Advisor aware! This language will be added to a list of languages to be considered in the future.
For students who aren't able to access the platform in their home language, their is an English-to-English course. Providing all the same content, this allows pupils to fully immerse themselves in the English language from the very beginning.
For FlashAcademy® MFL, our full language courses are available for:

FlashAcademy® is recommended by the National Association for Head Teachers (NAHT), the Association of School and College Leaders (ASCL), Access to Education, Pupil & School Support (PSS) and Link2ICT.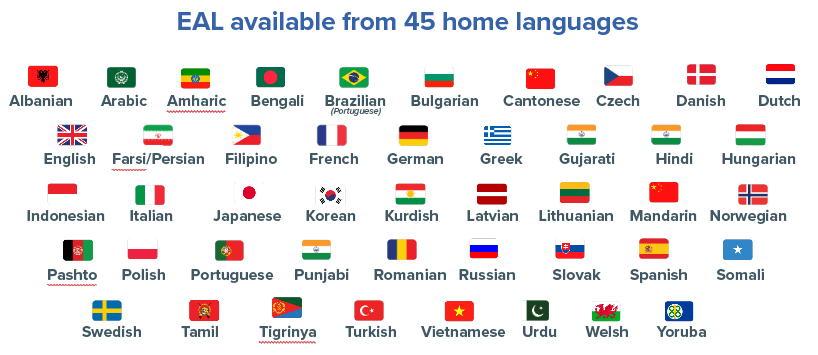 Home languages coming soon on FlashAcademy® EAL:
Bosnian, Croatian, Estonian, Finnish, Kirundi/Rundi, Lingala, Macedonian, Malagasy, Malay, Oromo, Swahili, Wolof, Xhosa, Yiddish, Zulu.
Yes. We appreciate that as a pupil's language skills improve or they move on to a new school, you may wish to transfer their access to another student. This is why all our licences are completely transferable.
The FlashAcademy team can organise specialist training for teachers who feel they may need extra guidance on how to use the app. Depending on the level of training provided, this may incur an additional cost. Please contact team@flashacademy.com for further details.
Teachers can request a new password by simply pressing the "Forgotten Password" button within the app and entering their username. Alternatively, passwords can be changed in the "Admin" section of the Teacher Dashboard or by contacting your Education Success Advisor.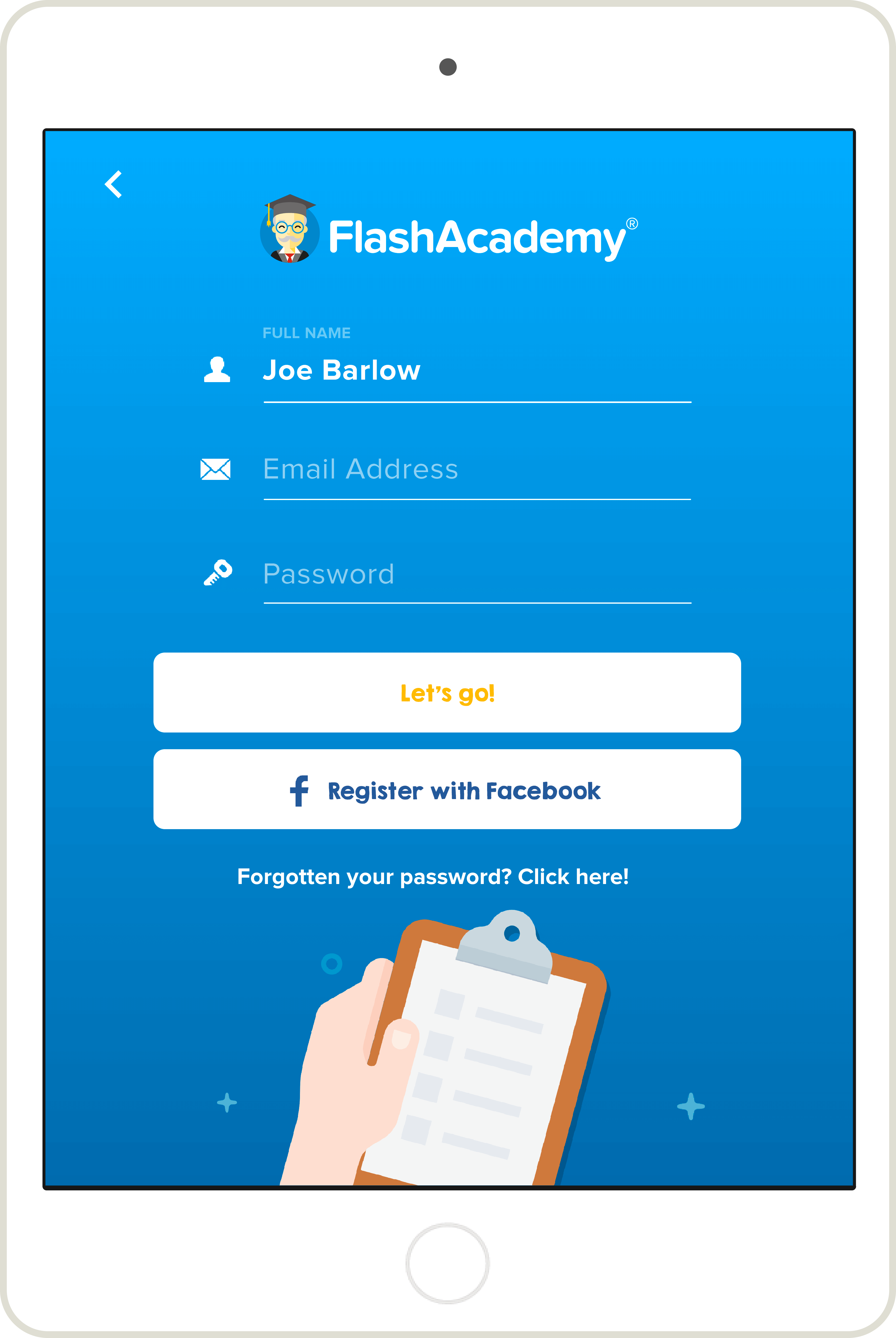 To discuss pricing options, please give us a call on 0121 7240854 or drop us an enquiry team@flashacademy.com and one of our team members will be in touch!
Yes. FlashAcademy® MFL teaches vocabulary and grammar mapped to major examining bodies: AQA, Edexcel and OCR, and is suitable for Key Stages 1–4.
FlashAcademy® EAL teaches vocabulary mapped to the National Curriculum for all main subject areas including science, maths and humanities, meaning pupils can participate in mainstream lessons as soon as possible. Content covers Key Stages 1–4 and includes lessons to support preparation for the KS1 Phonics Screening Check and KS2 Spelling, Punctuation and Grammar SATs. We are currently reviewing KS3/4 content to ensure that it is mapped to GCSE and A-Level syllabuses across the curriculum. FlashAcademy® also teaches survival vocabulary to help children negotiate their way around school, for example "Where is the toilet?" and "break time".
FlashAcademy® can be used on smartphone, tablet and PC. The platform runs on all Apple devices using iOS 9 and above and on Android devices using 4.4 (KitKat) and above. Windows 7 (service pack 1) is the minimum requirement for our Windows app and web app.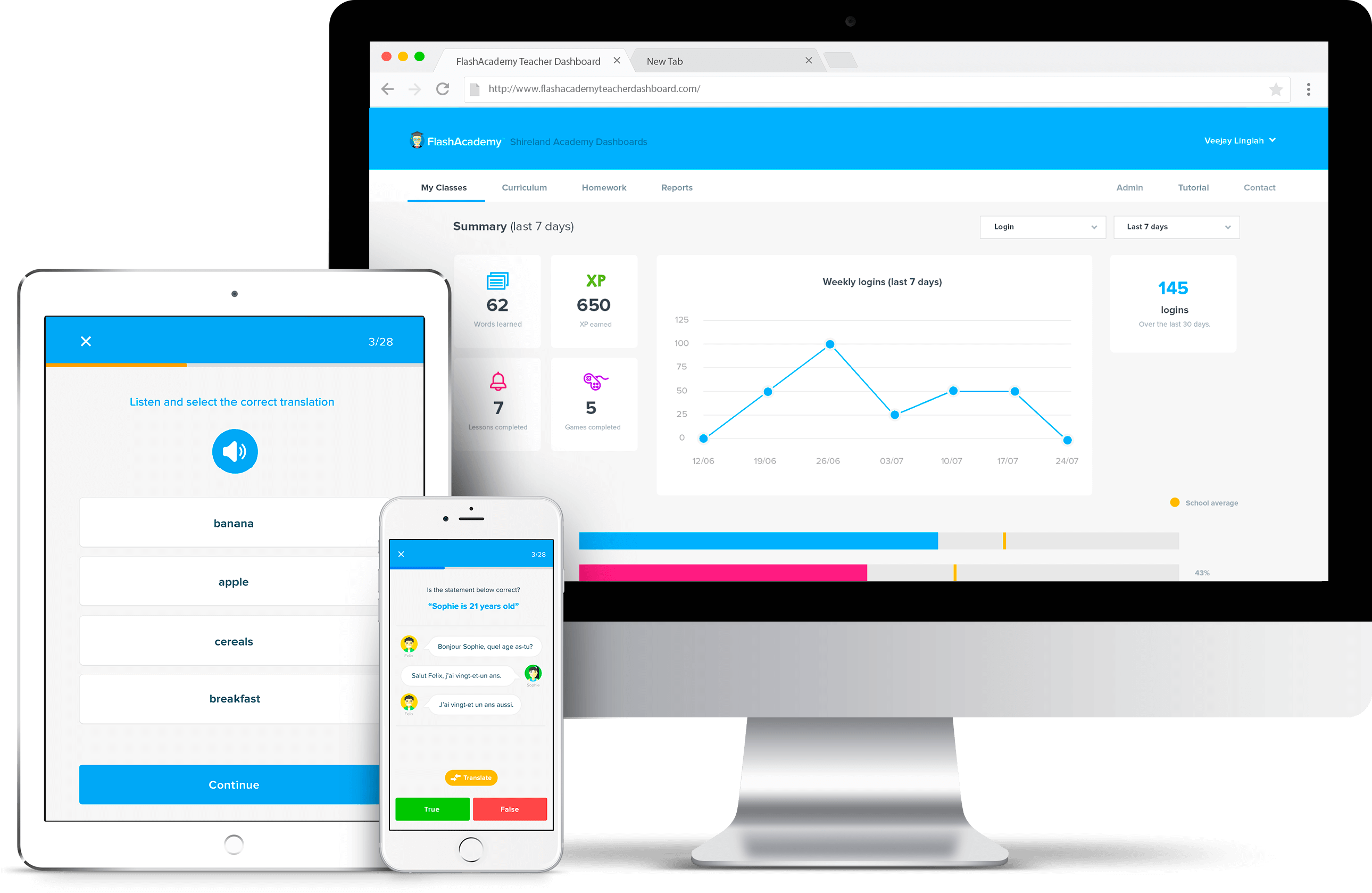 Yes. As long as a pupil has access to one of the devices mentioned above, they are able to log on to the platform from anywhere! They will just need to type in their log in credentials.
Yes. Our platform comes with a dedicated Teacher Dashboard, which allows you to track progress, usage and attainment across the main skill areas: listening, reading, writing and speaking. You can set goals and measure progress over time, helping to make sure extra attention is given to the pupils who really need it. The Teacher Dashboard can be accessed here: edu.flashacademy.com.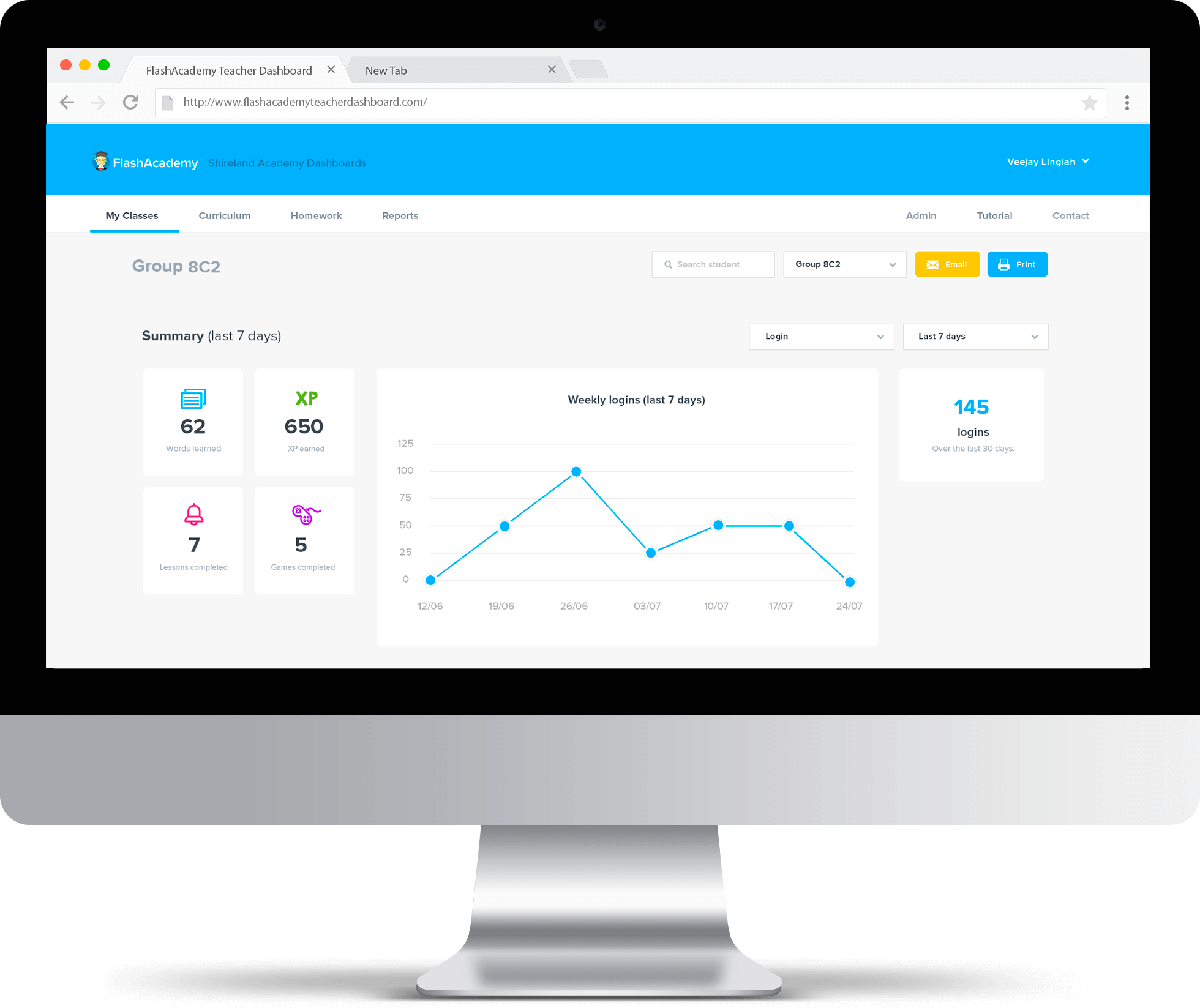 If you have purchased a FlashAcademy subscription and are unable to enter the locked lessons, go into Profile > Settings > Restore Purchases. You may also need to check your subscription status on the App Store/Google Play Store to make sure the purchase was successful.
Don't worry if you've forgotten your password – we'll get you back up and running in no time! Just contact team@flashsticks.com and tell us which email address you're signed up with and we will reset your password ASAP.
For the audio to be able to work on the FlashAcademy app, your device needs to be switched on to 'loud' mode. For iOS devices you will need to flick the side switch up and turn the volume up using the control panel at the bottom of the screen.
This option can save up to $59 per year, whilst allowing you to commit to a single yearly payment versus 12 monthly payments. This is the most cost effective option and at the moment we're offering every new 12-month subscriber a free pack of FlashSticks Notes.
To change your subscription plan, you will need to cancel your current subscription. Firstly, go to Store > Manage Options to cancel. Then you will also need to cancel the old plan through the App Store or Google Play store (links in previous answer) and re-subscribe to your preferred new plan. Don't worry, you won't lose any of your progress!
To subscribe to Premium, simply go to the 'Store' section (you'll see this at the bottom of the screen), and select the plan you want to purchase. Once you select the plan you will be asked for your iTunes or Google Play password and the payment will be processed through your account.
Yes, FlashAcademy can be used without internet connection, provided you have downloaded the categories using wi-fi first. Please note that if you are in offline mode, you will be unable to access the Object Translator, view the Leaderboard, watch Videos or complete the Speaking Challenge.
If you just want to review the vocabulary and grammar from the lesson without the challenges, click on the lesson again and select 'FlashCards.' In the FlashCards area you will be able to view all of this content by selecting the 'Words' and 'Grammar' options at the bottom of the screen.
Yes, you absolutely can study more than one language. Our full language courses are available in French, Spanish, German and Italian; Premium provides you access to all content across all languages.  When you wish to select a different language to learn, simply go to  'Language course' on the top left of your screen, and you can then select another language from the options.
You can either sign up to the app using your email address or Facebook account. If you sign up with your email, you will also be asked to create a password, which you will then need each time you log in. Alternatively, you can sign up with Facebook if you have an account.

To download the app, simply search for 'FlashAcademy' on the App Store or Google Play Store. Hit download and you're ready to start learning!