Frequently asked questions
A Success Team Advisor will email you whenever there is an update pending, so do keep an eye on your inbox. It is important that your school keep all their devices running the most up-to-date version of FlashAcademy® to be able to access new content. All our updates will contain bug-fixes, new features, new challenges and even more lessons!
Your students can access FlashAcademy® via the app (available as a free download from the App Store or the Google Play Store), via their browser on a desktop (web.flashacademy.com). Teachers can also access the app, but for all admin and monitoring they must log on to the Teacher Dashboard (edu.flashacademy.com) using a laptop or pc.
Yes, our Technical Guide is available here. It will also be sent to you attached to your Welcome Email. If at any point your IT team need further support, please get them to send an email to support@flashacademy.com.
Go to the Teacher Dashboard (edu.flashacademy.com) and log in using the admin details received in your Welcome Email. Go to "Admin" and then click on "Teachers". From here you can manually add your colleagues by using their work email address and assigning them a password. Once they have their own login details, you will be able to assign them to classes.
Yes, head over to My Account > User Admin > Students and hit the Download Students button.
Log on to the Teacher Dashboard (edu.flashacademy.com) and log in using the admin details received in your Welcome Email. Go to 'My Account > User Admin > Students > Add Students'. Here, you will find two options. The simplest way to give your pupils access is by bulk-uploading students by downloading the CSV template, populating it, then re-uploading it to the dashboard. You will then see a long list of your students, can determine if they are an "EAL" or "MFL" learner and set their home language. Alternatively, you can add students manually by selecting the link on the same page and completing all information fields.
Your school Centre ID is a 4-character code unique to your school. This will be made available in your Welcome Email and can be found along the top of your Teacher Dashboard home page.
Your school's Centre ID will need to be used by all teachers and students when logging in to the Teacher Dashboard or the app. If you have forgotten your centre ID and can't find your welcome email, please contact support@flashacademy.com.
If FlashAcademy® does not currently offer the home language of a pupil at your school, please do make your Success Advisor aware! This language will be added to a list of languages to be considered in the future.
For students who aren't able to access the platform in their home language, there is an English-to-English course. Providing all the same content, this allows pupils to fully immerse themselves in the English language from the very beginning.
For FlashAcademy® MFL, our full language courses are available for:

FlashAcademy® is recommended by the National Association for Head Teachers (NAHT), the Association of School and College Leaders (ASCL), Access to Education, Pupil & School Support (PSS) and Link2ICT.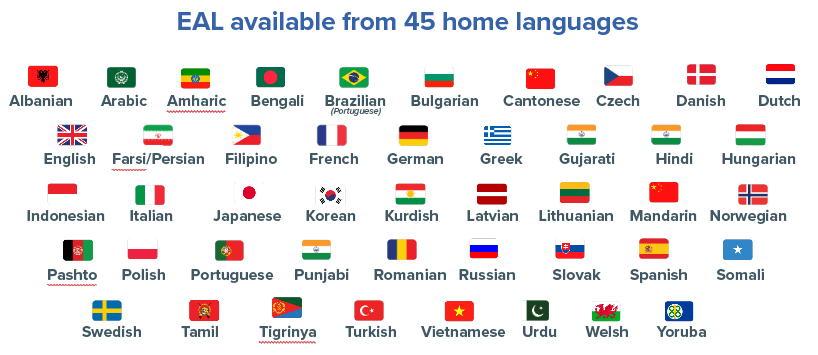 Home languages coming soon on FlashAcademy® EAL:
Bosnian, Croatian, Estonian, Finnish, Kirundi/Rundi, Lingala, Macedonian, Malagasy, Malay, Oromo, Swahili, Wolof, Xhosa, Yiddish, Zulu.
You will undergo a thorough onboarding process to be trained on using FlashAcademy® which will enable you to share your knowledge with colleagues and wider teams. Our top-up training webinars can be found here. If you need extra resources or information, email support@flashacademy.com.
Passwords can be changed in the "User Admin" section of the Teacher Dashboard or by contacting an Education Success Advisor at support@flashacademy.com.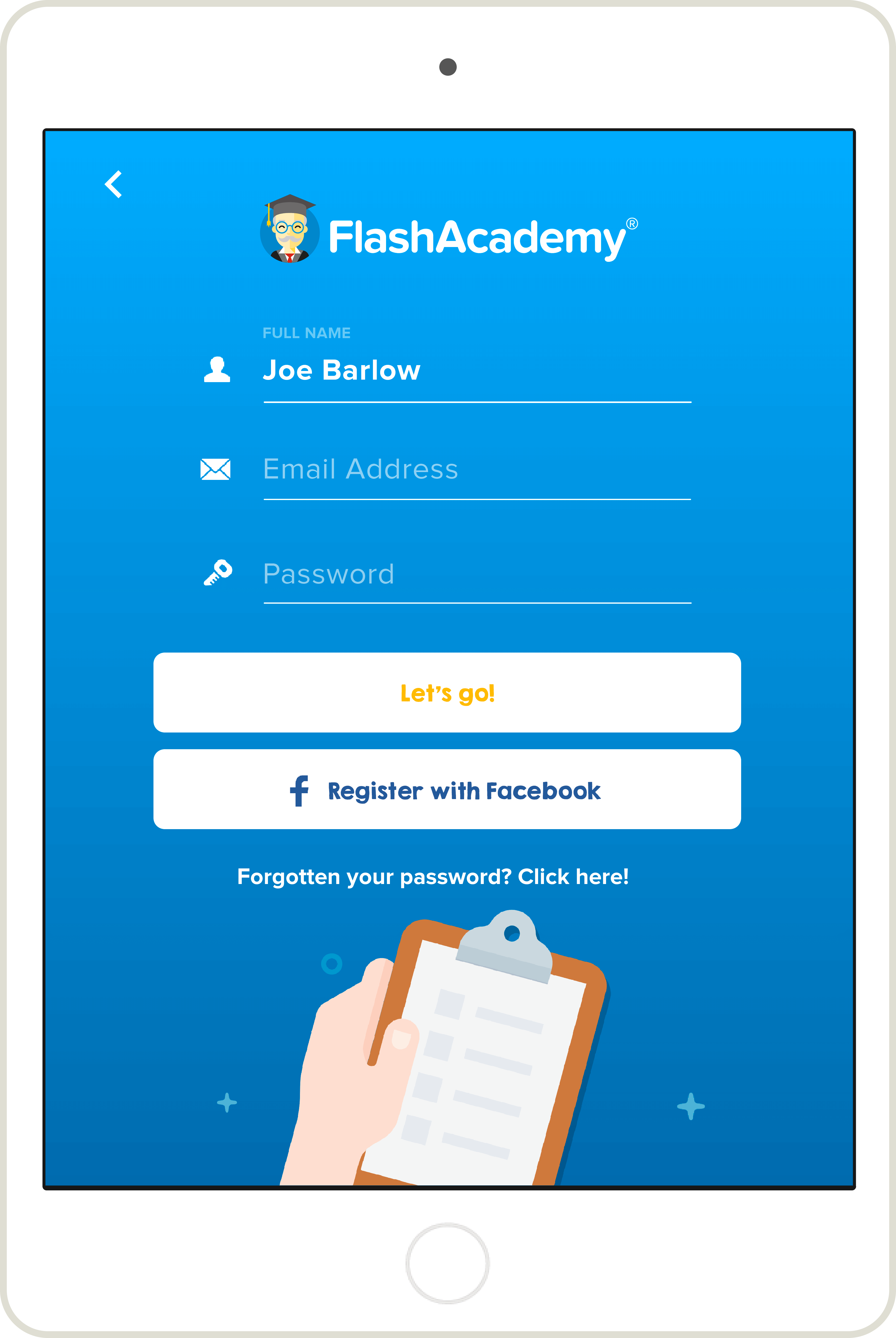 To discuss pricing options, please give us a call on 0121 7240854 or drop us an enquiry team@flashacademy.com and one of our team members will be in touch!
Yes. FlashAcademy® MFL teaches vocabulary and grammar mapped to major examining bodies: AQA, Edexcel and OCR, and is suitable for Key Stages 1–4.
FlashAcademy® EAL teaches vocabulary mapped to the National Curriculum for all main subject areas including science, maths and humanities, meaning pupils can participate in mainstream lessons as soon as possible. Content covers Key Stages 1–4 and includes lessons to support preparation for the KS1 Phonics Screening Check and KS2 Spelling, Punctuation and Grammar SATs. We are currently reviewing KS3/4 content to ensure that it is mapped to GCSE and A-Level syllabuses across the curriculum. FlashAcademy® also teaches survival vocabulary to help children negotiate their way around school, for example "Where is the toilet?" and "break time".
FlashAcademy® can be used on smartphone, tablet and PC. The platform runs on all Apple devices using iOS 9 and above and on Android devices using 4.4 (KitKat) and above. Windows 7 (service pack 1) is the minimum requirement for our web app.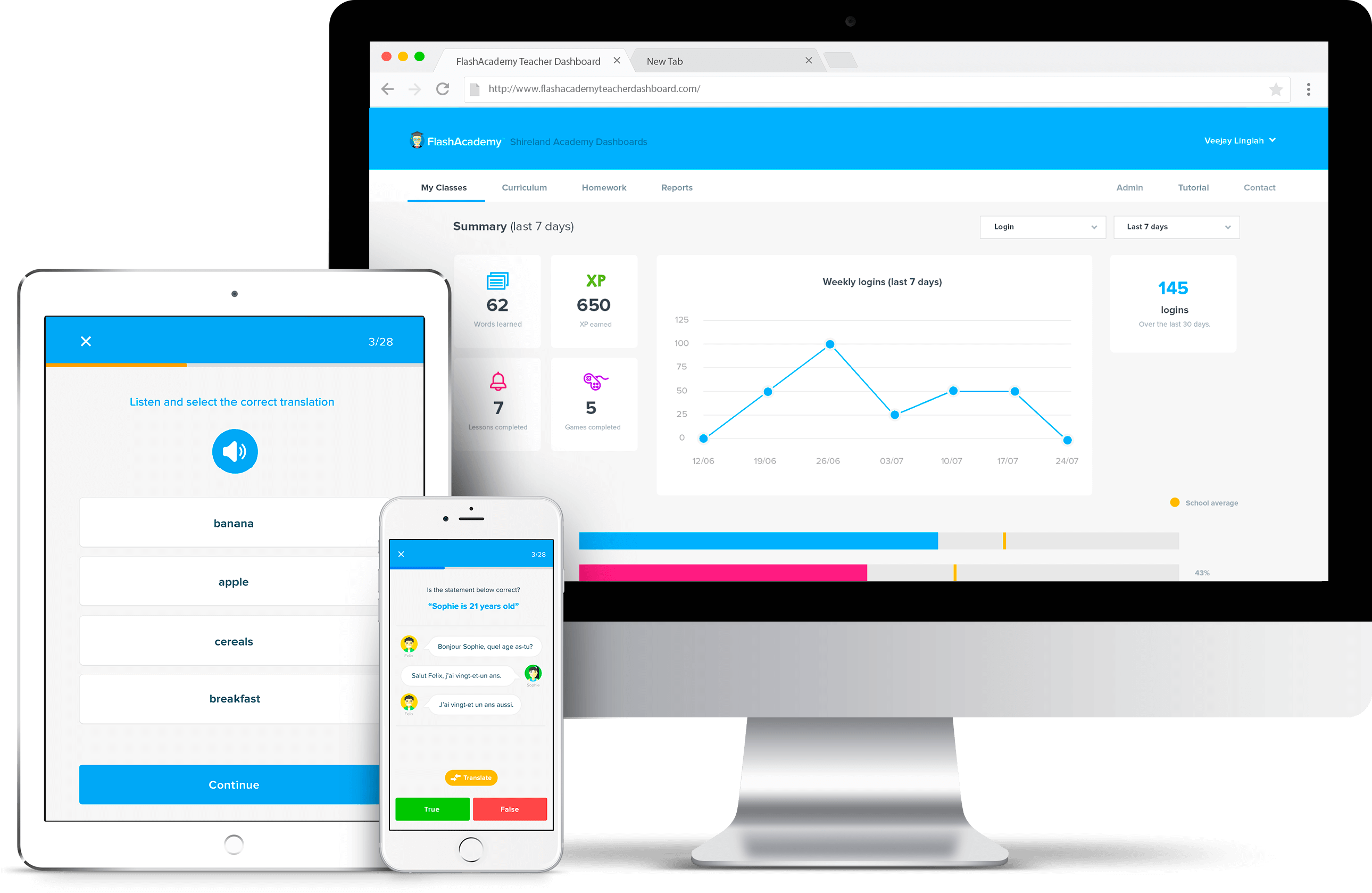 Yes. As long as a pupil has access to one of the devices mentioned above, they are able to log on to the platform from anywhere! They will just need to type in their log in credentials.
Yes. Our platform comes with a dedicated Teacher Dashboard, which allows you to track progress, usage and attainment across the main skill areas: listening, reading, writing and speaking. You can set goals and measure progress over time, helping to make sure extra attention is given to the pupils who really need it. The Teacher Dashboard can be accessed here: edu.flashacademy.com.