Over 100 teachers, educators and organisations responsible for EAL provision attended the EAL Birmingham 2018 conference hosted by FlashAcademy®. The conference involved a variety of speakers who offered support and advice on how to tackle the EAL challenge in schools.
Terri Cawser (Assistant Service Lead at Pupil and School Support) – The EAL Proficiency Framework
"What we know about teaching children with English as an additional language is that you can't just focus on language, you have to focus on social, you have to focus on academic, you have to focus on the whole child."
Terri Cawser from Birmingham's Pupil and School Support (PSS) talks us through the EAL Proficiency Framework and how it can be used to pinpoint the different groups of EAL learners in schools. Although the framework faces some challenges, Terri claims it "allows us to celebrate bilingual learners" by demonstrating all the different cultures and languages brought to schools.
Rising numbers in EAL students provides a challenge for schools
Terri also highlights the purpose for using the framework to combat the rising challenge of EAL, saying that "We have schools with over 40 languages in them now so we need to look at different ways of resourcing that" which she believes can be supported by the EAL Proficiency Framework. She also makes it clear that schools should train their staff in EAL and how to correctly assess EAL students using the Proficiency Framework, ensuring that they can correctly distinguish between the different groups of EAL learners.
Meredith Cicerchia (Applied Linguist at University of Nottingham) – Vocabulary in the EAL Classroom
"No two EAL Learners are alike."
In her talk, Meredith Cicerchia (Applied Linguist from the University of Nottingham) places much emphasis upon vocabulary when teaching EAL students. Meredith believes that "vocabulary is the building block of language" because it impacts the four skills – listening, reading, writing and speaking. She expresses that "the more words you know, the more you learn in school" as acquiring more vocabulary means that EAL students will be able to understand the content better.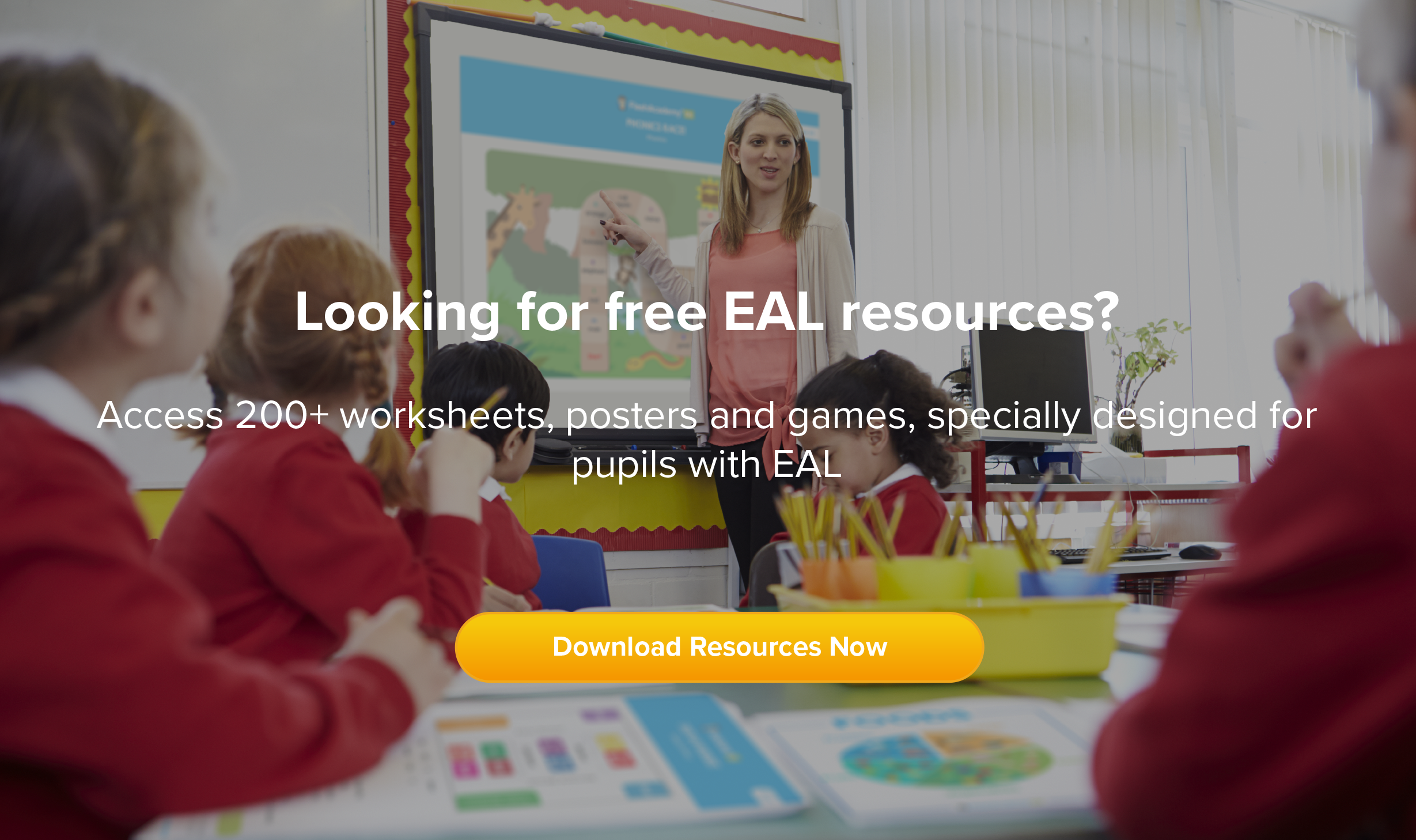 How some classroom activities can lead to overwhelmed EAL students
Meredith tells us how some English language classroom activities could overwhelm EAL students. She talks about reading activities where students are required to fill in the missing word, "in order to guess a word from context you need to know 93% of the other words in that sentence, that's tricky for a beginner." Trying to work out the meanings of all these other words may lead to EAL students becoming "cognitively overloaded" which reduces the motivation to want to learn English for some EAL students. Meredith suggests a way for EAL students to communicate these difficulties, by holding up a finger for every word they do not understand.
How vocabulary should be taught
When it comes to deciding which types of vocabulary should be taught, Meredith says that it is all about the individual; she uses the example of an English language learner who attends football practice as a hobby but cannot engage due to a lack of knowledge on football-related vocabulary. She gives the tip "Knowing your learner and knowing what is important and useful to them will mean that you help them get vocabulary they'll use every day".
Hollie O'Sullivan (Lead Teacher for EAL at Great Barr Academy)
"EAL is not a special need, it's an English proficiency."
Hollie O'Sullivan is the Head of EAL at Great Barr Academy, one of the largest schools in the UK. In her presentation, Hollie tells us about a number of strategies that she implemented to help the EAL students in her school (around 600). However, Hollie does exclaim that "EAL doesn't actually mean a lot anymore because there's a massive difference between a new to English EAL and a fluent EAL student" making the point that not all students classed as EAL have low English skills and that there are different levels.
The benefits that EAL students can bring to a school
Hollie also talks about the advantages EAL students can bring to a school, "Having that rich, diverse culture in your school and community should be seen as a positive and can be beneficial school-wide." She encourages teachers to push on with teaching EAL students, regardless of whether they will be exam-ready or be able to meet class deadlines "in the future once their language barriers are no longer an issue they may decide to go back into education and resit these qualifications…we need to give them as much foundational subject knowledge as we can." She highlights the importance of motivating these learners to continue studying English and shows us methods of helping EAL students in school, such as a buddy system where students will pair with an EAL student to provide them with any assistance they need (known as EAL Prefects).
How FlashAcademy® EAL has helped the EAL community at Great Barr Academy
Hollie then talks about the impact that using FlashAcademy® has had on her school, "We bought FlashAcademy® and I am desperate for a whole school license now because it promotes inclusion" and expresses that it has helped save time for teachers by tracking student progress.
David Irish (Principle of Shireland Collegiate Academy) – EAL Academy in Sandwell
It must be one of the most frightening experiences to move from your home country, move to the UK, be dropped into a secondary school of 1100 pupils or more and not be able to communicate with anybody."
In his talk, Principle of Shireland Collegiate Academy David Irish talks about his school's focus on the use of technology to enhance English language learning in EAL students. 55% of students who attend Shireland Collegiate Academy have English as a second language; this is a significant proportion which David said was something that could not be ignored "I am not an EAL specialist, my specialism is in running and leading a school, but it is a problem that affects my school and so I've had to learn about it."
There is a danger of schools sidelining EAL students
David also talks about his worry that EAL students may be side-lined by teachers and schools, due to EAL not being recognised as a national issue, saying "If these students were classed as SEN we wouldn't be able to sideline them but because it's not identified as a national issue it is not high on an agenda, but for schools it should be." He talks us through some of the projects that he is behind, which involve working with EAL students and their families to ensure they have a good understanding on the education system, having fully trained EAL staff in school and incorporating technology into lessons to accelerate learning.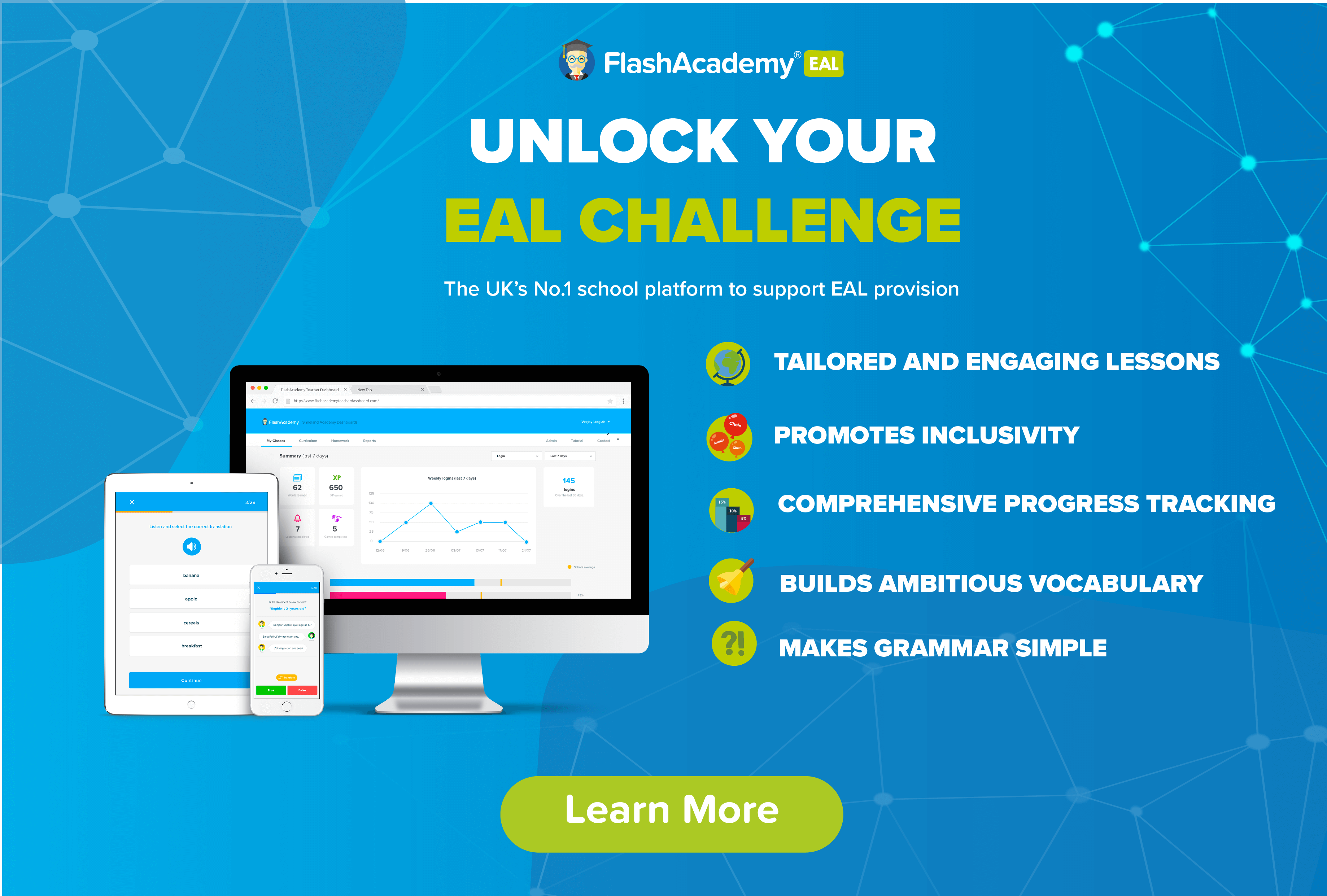 FlashAcademy® has impacted the learning at Shireland Collegiate Academy
David talks us through the methods he took to implement technology into his school in which FlashAcademy® was a part of, "Whatever we did, technology was going to be embedded in it and FlashAcademy® has been key to that." It was David's idea that FlashAcademy® provide a platform for EAL students so that they are able to learn English in a way that is more engaging, in which they can practice both inside and outside of the classroom. It is now a platform that is loved by pupils and teachers across the country.
Emma Cleave (Programme Officer, The Bell Foundation) – Dispelling the Myths about Children with English as an Additional Language: Using Evidence to Inform Education Policy
"We believe that teachers and schools need to be really really confident in their ability to support this group of learners effectively."
Emma Cleave is a Programme Officer for the Bell Foundation and in this talk, she focuses on bold statistics that outline the current EAL situation in England. "EAL learner numbers are now at 1.3 million in England" and assures that numbers will carry on increasing, so makes it clear that teachers need to be trained and confident in their ability to help and support EAL students. This includes accuracy in categorising EAL learners according to the English Proficiency Framework.
EAL students have the potential to excel in GCSE examinations if given full support
Emma recalls GCSE statistics published earlier in the year "for the first time ever, students with the apparent disadvantage of having English as an additional language outperformed native speakers on all of the DfE's key measures." This statistic gives hope to both English learners and teachers that EAL students are able to catch up with their native-speaking peers and encourages teachers to implement strategies that can make this possible. She then touches on the EAL Proficiency Framework as a way to assess EAL learners.
To learn more about how FlashAcademy® can solve language learning challenges at your school, drop an email to team@flashacademy.com or browse our free resources.