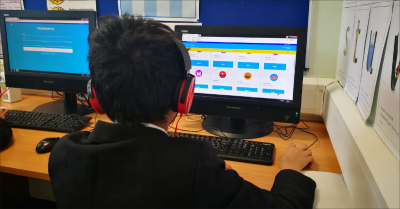 Outwood City Fields Academy is a mixed secondary school located in Wakefield. The schools' community is very diverse, with around 35 different languages spoken by the students. Being based in a low-income area, the school has a high level of pupil premium children and so this, coupled with a high level of unemployed parents, has posed challenges in helping students to reach their full potential. Scroll down to read about this FlashAcademy case study!
We spoke to Stacie Eriksson, Outwood City Field's EAL Coordinator, about their experience of FlashAcademy and how it's supporting English language development for students of any year group.
Can you share some of the school's challenges around EAL?
The main challenge was the lack of staff with relevant experience. We have around 48% EAL at our school and I am only one person trying to support these children, all of whom have very different needs. Helping these students requires a lot of work and attention; often we would only prioritise those with very low ability which meant other bilingual students weren't getting the help they needed as well.
What impact are you seeing with FlashAcademy?
FlashAcademy has really helped us in the sense that it's like having another member of staff. I've got lots of students who are both EAL and SEN and the platform has certainly benefited their learning development where they can go at their own pace.
We integrate FlashAcademy into lots of lessons where the students can use tablets provided, and it's great because rather than having to spend time away from the classroom, they can stay in their lessons with the rest of the class which means we can use our teacher time more effectively. It enables students to take just that little bit more responsibility for their own learning; it must feel so tough going to five lessons a day where in at least three of them you don't know what's going on. Having that ownership where they can say "I can't do this, but I know what I can do and that's FlashAcademy" is what makes it such a good system.
It's accessible for every age group; I've been an EAL teacher for over eight years and a lot of the platforms I've used before are quite babyish. FlashAcademy offers an array of lessons, activities, and games that keeps them on their toes.
Do you have any success stories to share?
I have two great success stories that I'm really proud of. We have one student who has a very high need and has been struggling for the last three years; his language ability is very low because he has SEN as well, so will often withdraw from school life. We put him on FlashAcademy and he just loves it; he's flourishing and even speaking in class! His spelling has improved a great deal, spelling all kinds of words like 'homeless' and 'particle'. He often practices at home with his father as well, and it's just given him so much confidence to speak to people.
We also had a year 11 girl from Gambia who'd never attended school before and we had to get special permission for her to stay in school because she was already 16 (we knew if she went to college she wouldn't be able to partake in anything because she was illiterate). We kept her in for another year and during the four months she was using FlashAcademy she became very confident, fully capable of spelling things and writing sentences. She even kept using right up until September so she could practice at home. It made such a difference to her learning development and life in general, and we were just so proud of her!
Would you recommend FlashAcademy as an EAL platform for schools?
I would definitely recommend FlashAcademy, I've already contacted every other EAL practitioner I know and any school that has an EAL need which isn't being met by a practitioner. I think for mainstream education, a lot of academies don't have the capability to look after students who are new to English, and this is an EAL teacher in a computer! Everyone deserves to have a way into mainstream education and that shouldn't be hindered by the fact you don't speak great English yet. I'd recommend any school to start getting some FlashAcademy in!