As language learners, once you've learned the basics and have built up a decent vocabulary, it can be difficult to know where to go next to learn even more words, perfect your pronunciation and ultimately sound more authentic.
For many people who have started to learn Spanish and built up confidence, the obvious answer to this is to go ahead to the country and totally immerse yourself in the culture, language and lifestyle. This isn't often the easiest thing to do, so you may need to be creative with finding other avenues to explore. We think that learning Spanish by listening to music is a great way to get more Spanish into your everyday life and can also help you understand more about the culture of Spain!
Language immersion – what is it?
The idea of learning a language through immersion has been a hot topic in recent years, and has been backed up and supported by numerous linguists. In an ideal world we could all jet off to sunny Spain for three months to learn by osmosis and return with an accent and conversation skills to rival a native speaker.
The immersion method is tried and tested. When you have no escape you have no choice but to communicate in Spanish whether you feel confident or not. Immersion is an intensive way to learn a language and means that you rapidly build conversation skills, authenticity and cultural knowledge.
The next best thing to being able to physically immerse yourself into the Spanish language and culture in Spain is to immerse yourself at home by injecting all things Spanish in to your everyday life. There are so many ways you can do this, through watching movies, reading articles, social media and YouTube videos, which we talked about in more detail in our previous post.
Listening to music in your target language (Spanish) is a great way to immerse yourself and learn Spanish almost effortlessly! Think about how often you have the radio on, listen to your iPod or search for new music on YouTube. If you made even half of that listening time focus entirely on Spanish you would be immersing yourself. You can make your commute to work, your evening run, your morning shower and cooking dinner all the perfect times to listen to some music and learn Spanish effortlessly.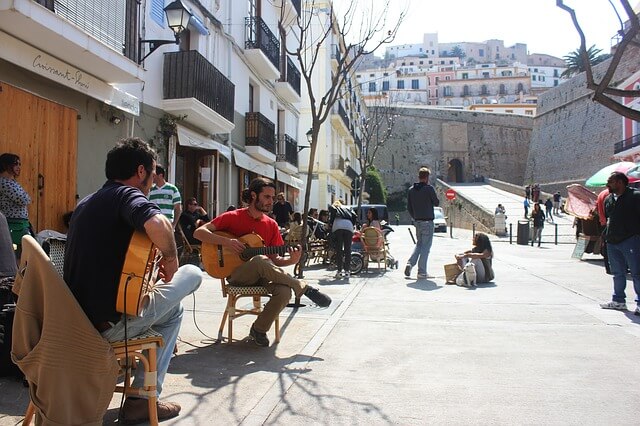 Typical Spanish music
Every culture and country has a traditional music genre. In the case of Spain, the most famous is flamenco. It's a symbol of Spanish culture and it originally appeared in Andalucía, a region located in the south of the country. If you think of flamenco, you might also think about the traditional clothes that flamenco dancers wear. Women usually wear long dresses with flounces and dots and they decorate their hair with a rose. Normally, flamenco dancers perform while the musicians play a song. Some of the typical instruments are the worldwide famous Spanish guitar, castanets and a percussion box literally known as "drawer".
Of course, we can't forget flamenco singers, who clap in order to set the rhythm of the music. Even though more musical genres appeared after this one, flamenco is still very popular in Spain and you will find a lot of people that love it! So, if you visit Spain, we highly recommend you to attend a flamenco performance! Not only will you be able to learn some dances and songs, but you can also try traditional Spanish food while enjoying a unique and authentic experience that will immerse you in Spain's beautiful culture!
However, flamenco is not the only traditional music genre in Spain! There is a wide variety of dances such as jota, chotis or sardana. You will find that some of them are performed in specific regions, while others are well-known in all the country! They are usually performed during traditional celebrations, such as religious festivities and Easter. If you are visiting Spain and want to learn how to dance them, there are groups of dancers and you can join them to learn!
On the other hand, you will be surprised to know that you can find some similarities between traditional Spanish music and the music from countries around the world. In the north of Spain, Celtic music is popular and even some current famous groups play bagpipes and electric guitars together in a song.
Spain has a rich and diverse culture and music such as flamenco reallu adds to it. Music is a vital aspect of Spain's tradition and culture, reflecting its diversity and providing Spain with its wonderful Mediterranean identity.
Popular Spanish artists
First, it's important to establish what kind of Spanish music you like, because you aren't going to learn much if you don't like what you hear! We've put together a list of popular Spanish artists, where there will be something for everyone, so you can start by following these musicians on Spotify/YouTube!
Whether you prefer soft music, upbeat songs you can dance to or classic Spanish-sounding songs, there is something out there for you! Have a listen to our favorite artists below:
Fito y Fitipaldis (Spain). A well-known Spanish rock band, these guys are perfect if you like instrumental music with lyrics you can sing along to.
Calle 13 (Puerto Rico) Rap. A Puerto Rican duo who play rap music with melodic backgrounds. Great to listen to if you're a rap fan and want to try rapping in Spanish!
Ska-P –  (Spain) (Ska). A ska-punk band whose songs are upbeat and a little crazy! Their songs are really fast paced so perfect for more advanced learners.
La Oreja de Van Gogh (Spain). A Spanish pop group singing romantic songs. These songs make for very easy listening.
El Barrio (Spain). If you want to listen to something quintessentially Spanish then El Barrio's beautiful flamenco songs are the perfect choice for you! Pair with a refreshing Sangria and be transported away to España!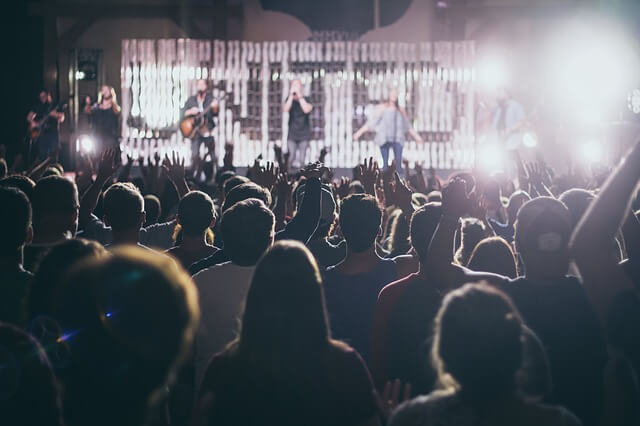 Our top 10 Spanish songs
Bailando

(Enrique Iglesias) – Spain (pop rock latino). You've probably heard the English version of this song, so why not try the Spanish. The lyrics are quite fast paced though, so this is probably one for intermediate to advanced learners to try.

La Tortura

(Shakira / Alejandro Sanz) – Colombia / Spain (pop rock latino). Everyone has heard of Shakira – but did you know she also records all of her songs in Spanish as well as English? La Tortura features Alejandro Sanz and is an upbeat but relatively easy to follow song!

La camisa negra

(Juanes) – (pop rock latino). Colombian artist Juanes' catchy acoustic songs are easy to follow and fun to listen to!

Pienso en aquella tarde

(Pereza) – (pop rock latino). Spanish band Pereza have a really laid back style and this song is particularly easy. Before going solo, the popular Spanish musician Leiva was a member of Pereza.

Carolina

(M-Clan) – (pop rock). A perfect song for all of the indie/pop rock lovers out there, this song by Spanish band M-Clan is one you can really blast out in the car!

En el muelle de San Blas

(Maná) –  (pop rock latino). From Mexico we have another pop rock song with a relaxed Latino vibe. The lyrics may be a little more challenging due to the Mexican Spanish but it is a great song!

A Dios le pido

(Juanes) – (pop rock latino). We just love Juanes so much that we had to put him in this list twice. This song is fantastic for understanding reflexive verb formation. It is a fast-paced song, so is a little challenging but is great fun to learn!

Me gustas tú

(Manu Chao) – (pop rock latino). Spanish is one of the many languages of Manu Chao's songs. Another great song for grammar, this song will help you nail the verb

gustar.

It's very catchy and the lyrics are super easy!

Salsa Tequila Corazón

(Anders Nilson) – (dance). Although this isn't from a Spanish artist, it's a great party song! The lyrics are easy and will get the whole room dancing!

¡Suéltalo!

(Frozen, El Reino de Hielo) – We put this one in just for fun, because who doesn't love 'Let It Go'! The lyrics are easy enough to learn, but hitting those high notes could be more of a challenge!
Spanish radio stations
Listening to the radio can also be a great option for immersing yourself into Spanish. You'll get to hear all of the newest song releases, as well as listen to interviews with artists, general chatter and news stories. Perfect for improving your listening and conversation skills. Our top Spanish radio recommendations are:
KissFM: Our first option is not only related to music, but also to news! This radio station offers you the possibility of listening to the news in Spanish so you can learn about current affairs too; a great way to improve your Spanish language skills!
Los 40 principales: This one will show you the top40 songs per week and month. It's perfect if you want to keep up with the most famous Spanish artists!
EuropaFM: As you might have guessed, EuropaFM emits more international music than the others. However, you can also enjoy Spanish musicians with this one.
RockFM: Undoubtedly, this is the best choice for rock lovers! Who said that learning Spanish has to be boring?

Radiolé: Discover Spanish culture through music and spend hours listening to flamenco and traditional Spanish songs!

http://www.emisora.org.es/ (radio stations web): On this website you will find different radio stations – as well as the ones mentioned above! This is a great place to start if you want to learn Spanish through music.
Benefits of listening to music in Spanish
Listening to Spanish songs and artists have so many benefits, and it's such an easy thing you can do! First, you learn a lot of vocabulary and even grammar (A dios le pido and Me gustas tu). Learning the lyrics to Spanish songs can improve your pronunciation and confidence when speaking rapidly in a conversation, and vice versa when you're listening to Spanish natives speak.
Listening to Spanish songs also gives you a real taste for the culture. Whether it's Flamenco, Pop Rock Latino or Rap, listening to these songs gives you a real taste for the colourful variety of Spanish music. Plus, you'd also be able to create the perfect fiesta playlist!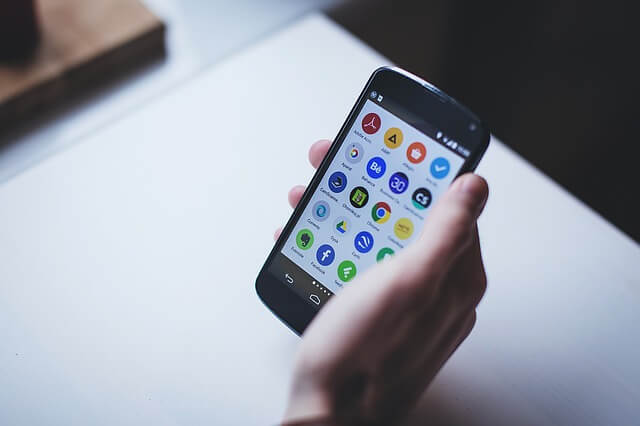 Other ways to immerse yourself
We went over lots of creative options to kick-start your language learning at home in one of our older posts, but for language immersion we recommend trying language exchange apps or websites and finding Spanish language meetups in your area, which are all equally great ways to help you learn Spanish!
Do you have a favorite Spanish artist, song or radio station? Don't forget to let us know in the comments, or you can tweet us @FlashSticks.