Italian food is known worldwide for being delicious. Everybody has tried at least once a slice of Italian pizza or a gelato during summer days. If not, you are definitely missing out!
The Italian food culture has ancient roots that are believed to be connected to the Roman Empire and each region has its unique dishes and traditions. Today, the Italian food is praised in the entire world.
From Little Italy in the US to almost every big city that claims to have the best Italian Pizzeria or Caffè, Italian stands for quality.
For Italians, food is almost religious, this is why we talk about the Italian food culture. Sunday is not just a rest day, but the day of shared lunch with friends or family. Italians always care about finding their time to eat and good company, as food is a means of socializing and interaction.
While fast food is slowly establishing in Italy, most Italians prefer to take their time to cook and eat slowly or to stick to simple Italian snacks, such as un panino (a sandwich) or frutta (fruit).
Every Italian cherishes the grandmother and her food and knows that weddings, birthdays, Christmas and Easter are packed with delicious food.
So what makes the Italian food culture so popular? For sure, big credits go to fresh and high-quality ingredients simply but cleverly put together to deliver the best taste and to Italians, who have kept passing their love for food to the next generations.
With olio d'oliva, mozzarella and pomodoro the Italian food is the perfect example of the Mediterranean Diet, a combination of healthy and nutritious food, approved by physicians to prevent diseases and obesity.
So what are the 5 foods you should be eating right now?
5. Bruschetta
As simple as it may be, it is just so tasty that you won't be able to resist it once you have tried it. Tomatoes, garlic, olive oil and basil on crispy bread make the traditional bruschetta but you can use your imagination and try out many different combinations. Perfect for a light lunch or dinner!
Want to know our top tip for giving the traditional bruschetta a try? Avoid it in the morning, just because garlic, you know?
4. Pasta
This category is a world on its own. Carbonara, Lasagne, Tortellini in brodo and Tagliatelle al ragú start but for sure don't end this bottomless list. From hand made to whole grain, we suggest you give Italian pasta a try! And if you want to be a pro, remember that every pasta has its own cooking time and sauce!
3. Gelato
Everyone knows gelato, a delicious food loved by kids and the elderly. During winter time Gelato is usually replaced by hot chocolate, as most of gelaterie are closed. Anyway don't worry: in big cities and touristic places, you can have your Gelato even in Winter. Try out the Gelateria Crispini and its pistachio flavor if you head to Umbria: this region ranked first worldwide for best gelato in 2017!
2. Tiramisú
There are many Italian regions claiming the origins of this simple, but really tasty treat and when in Italy, you could try different variations of this amazing dolce. Whether with cream or Marsala liquor, you won't be disappointed! A must, if you love coffee and aim to try Italy's most famous dessert!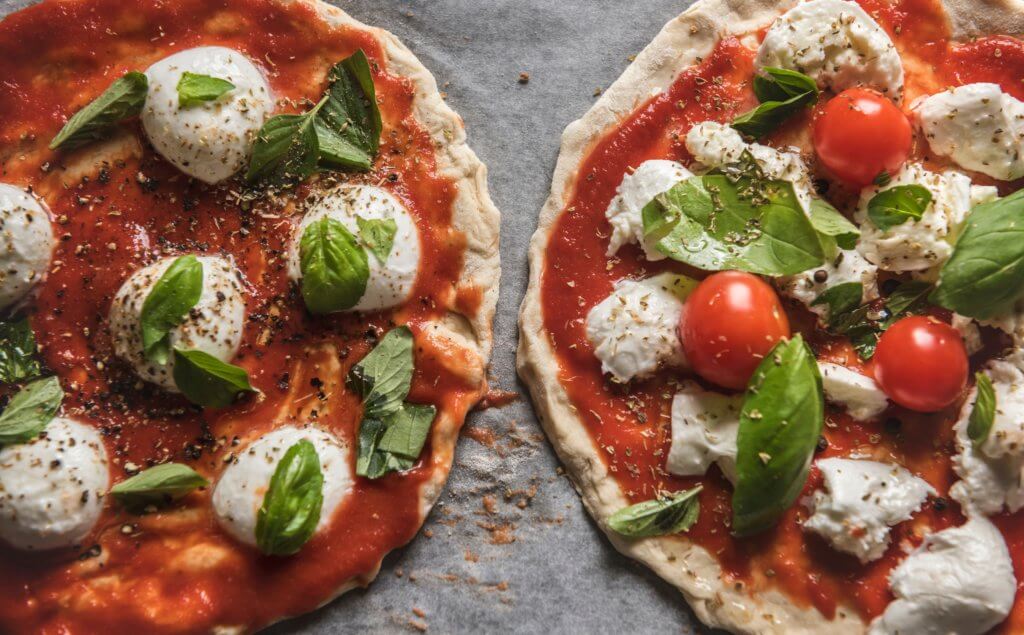 1. Pizza
There is no Italian food culture without pizza. The Italian pizza is thinner and crispier than the British and American one, so be prepared for something completely new. When in Italy, don't miss the chance to go to Napoli and try a simple, but tasty Margherita! Try Pizza with Mozzarella di Bufala as well, yummy!
I bet you are feeling hungry by now…!
So let us know in the comments what your favorite Italian food is!
Want to learn more about Italian culture? Read our article on How to flirt in Italian or Funny Italian Expressions.